About the GMC Utilities Group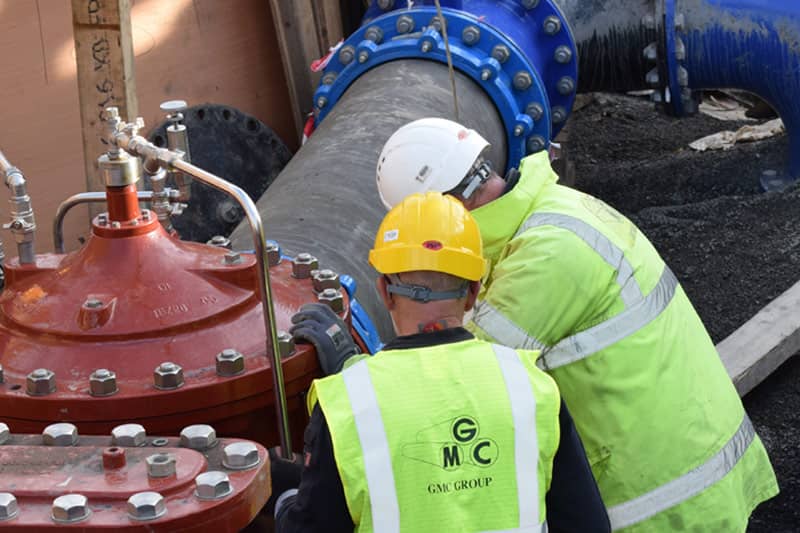 GMC Utilities Group was founded in the late 1970s by Gerry McCloskey and has enjoyed year on year organic growth becoming one of the country's most essential civil & engineering companies across multiple utility platforms.
Gerry has engendered a philosophy encouraging consistent heavy investment in labour, plant and back office resources. 
Through its programmes for labour and staff training, GMC personnel strive to deliver projects which surpass clients' expectations in line with the GMC directors' careful strategic planning.
At GMC Utilities Group we actively encourage a culture of openness, fairness and trust, both within our own organisation and also with our Clients, Professional Advisors and Stakeholders. This enables us to operate at the high levels expected by those around us and our clients. 
We encourage a culture of Continuous Improvement in our procedures, on site and off, setting internal and external benchmarks for our performance, and continuously measuring these improvements.
We continually measure our performance in the key areas of:
Quality Assurance
Health & Safety (Accident frequency and severity rates)
Budgetary Control
On-time project delivery
Environmental & Waste Management
Client / Customer Satisfaction
Our aim is to provide a friendly and efficient customer experience. Our clients, and their customers, expect that appointments and queries are handled promptly and we strive to deliver this, and to provide all the necessary information in a single interaction. 
On occasions, despite best intentions, things don't always to go plan.  We are committed to respond quickly to customer issues, to provide regular updates and to ensure a positive resolution.
GMC's Customer Commitment:
Available and ready.
Always adhere to client's guidelines and policies.
Relentless improvement through constant policy and procedure review.
Learn from our mistakes by responding effectively to contacts or complaints.
Build clients for life.
Our people are the foundation of our success and we are committed to their well being and continual development.
We fully support diversity, fairness and equal opportunities and fully support the right of all employees to work in an environment which is free of sexual or racial discrimination, either direct or indirect.
Our policies aim to ensure that there is no discrimination against employees or applicants on the basis of sex, marital status, sexual orientation, race, origin, religion, religious beliefs, political opinion, age or disability. We also recognise the problems that harassment can cause in the workplace and consider harassment of any employee for any reason as unacceptable. 
GMC understand that employee satisfaction comes from a healthy working and training environment that enables all to maximise their potential. GMC fosters a workplace of personal and career growth. You make us better and we strive to do the same for you. 
GMC's Vision is to build on our long term relationships and establish two way commitments by earning the trust of customers and stakeholders. We will continue our investment in our resources in order to maintain our position as a market leader. 
A lifetime of commitment to industry leading standards has seen us become a market leader, a position we covet and value, and could not have achieved without our customers. Thank you. 
GMC understands the strategic and material importance of a strong supply chain. Our suppliers and contractors are always part of our plans, we rely on them as they rely on us. 
Our procurement is achieved in a clear and fair way, rewarding excellence through repeat business and ensuring payment on agreed terms. Our high standards for health and safety, environmental matters and community relations are communicated to the supply chain.
GMC work and live in the communities of this Island, we never forget this. Our every move, build and action reflects our dedication to improving these communities, leaving them better than we found them without fail. 
Our project people are expected to engage with the local communities in which they operate and to keep them fully informed of all issues which might affect them.
Initiatives to bring added benefits to communities which we serve are implemented at every level in the organisation. Key stakeholders are also offered direct access to projects and we liaise with local emergency services and the Gardaí, including setting up help lines.
GMC GROUP believes in contributing to the well-being of the communities in which it operates. We will encourage involvement in charitable events that are important to the area or the people involved; and we will offer support for employees to undertake sponsored activities.
It is important to retain a set of core values and standards for our business processes. How a business is run, its business ethics and the systems it uses to ensure good management are the foundation of effective delivery of corporate governance.
Governance not only includes obedience to the law but demands responsible behaviour and transparency. The reputation of the company and the trust and confidence of those with whom it deals are among its most vital resources and the protection of these is of fundamental importance.
Our aim is to operate at all levels with integrity, aspiring to the highest standards
We continue to evaluate, critically, all our governance and management systems to ensure their suitability for purpose. We ensure all terms of reference for the various committees are fully up to date so that both financial and non-financial performance is monitored effectively. It is our aim that projects will directly improve the lives of people and their communities. Understanding their expectations is critical to our future as a business.
Health & Safety and Wellbeing
The GMC Utilities Group has a Management System which incorporates the ISO 45001:2018 standard and carries accreditation to this standard. We were one of the first civil engineering companies in Ireland to achieve the standard.
The company policy is to ensure that all its operations are carried out to the highest standards and to maintain a safe environment for all its employees and any person who may be affected by its operations.
In order to meet these criteria the company accepts its obligations under the various Safety, Health and Welfare Legislation to seek to reduce the incidence of Accidents, Dangerous Occurrences and Hazards within its working practices.
GMC ensures safe working and co-ordination & co-operation between all contractors on project sites.
The company requires that all employees and or sub-contractors shall regard safe working as a prime objective and take all possible steps to achieve it. GMC have extensive experience of undertaking the role of PSDP (Project Supervisor for the Design Stage) and PSCS (Project Supervisor for the Construction Stage) on numerous major projects.
Health & Safety communication is undertaken through;
 Company and Project Inductions
 H&S Policy Statement
 Risks Assessments & Method Statements
 Tool box talks
 Safety Committees
 Safety Bulletins
 Management Reviews
 Results of Accident investigations
The assurance of quality is fundamental to all of the work undertaken by GMC Utilities Group. GMC has a Management System which incorporates the BS EN ISO 9001:2015 standard and carries accreditation to this standard.
We will ensure that we can always meet our quality objectives and deliver a service that meets our client's requirements. The company follow a system of service realisation, before delivering the service provision to our customer.
Environment & Sustainability
GMC Utilities Group recognises that care for the environment is a primary responsibility and is committed to achieve continuous improvement of our environmental performance.
Our Environmental Management System meets the BS EN ISO 14001:2015 standard and carries accreditation to this standard.
The GMC Utilities Group is committed to the continuous prevention of pollution and to the continual improvement in environmental management and performance.
We are also committed to maintain acceptance of all our operations and activities by our clients, employees and the local community.
Accreditations & Affiliations
Opportunities to create the future, to realise your ambition, to get the rewards, promotions and fulfilment from your own work and dedication.
Only you can decide how far you will go in GMC. We'll only help you every step of the way.
Register and keep up to date with our latest career opportunities.